Posted by Duane McLennan on 10th Feb 2014
We're going to let everyone in on a little secret that the on-line florist industry has had since the dawn of the web.
Creating beautiful and unique floral images for florist's eCommerce websites has become a must for all types of florists around the world. For any florist, having a website that showcases not only what you can do, but shows it in a way that is appealing to the visitor and represents what they actually can provide are key factors to the success of the online business. These days, the success of the business as a whole is a major factor, as Google and other search engines have become the new YellowPages.
Most of the flower arrangement images you find on eCommerce websites come from what florists call "The Big Three" wire services, FTD, Teleflora and 1800 Flowers. Others are from smaller wire services or florist publications and it goes right on down to the very small Mom and Pop type shops who would prefer to showcase only their own designs to their potential customers. At Dragonfly Flowers, we've found that a mix of our own images and wire service images creates a product offering that we have been able to adapt our design capabilities and flower availability to, quite nicely. We are members of both Flower Shop Network and Teleflora, and have found great success using their images over the years, but sometimes the offering falls a little short of what WE want to offer our customers and we are in the process of developing more of our own images that will roll out continually over the next several months and years.
For Valentine's Day this year, we updated a few of our rose images.

The great thing about creating your own florist eCommerce images is that they can be created in your own style and be a very close representation of what actually leaves the flower shop on a regular basis. That's our roses, our bear and our Roger's Chocolates. Exactly what we send out for Valentine's Day. Flower arrangements have their own set of challenges as compared to typically referenced products that are sold on-line, like iPhone cases or headphones.
No two flower arrangements are alike!
While creating a design that matches the image exactly is the goal of any florist that's using an image as their inspiration, it can be extremely difficult to design to the exact image. The florist will use a pre-determined recipe that includes a certain amount of flowers and fillers, but each arrangement is as unique as the flowers themselves to some degree.
So, How Do You Go From Snapshot to eCommerce?
Developing an eCommerce image from a photo requires a few simple steps that can be done fairly simply by hiring a graphic designer or if you have the patience and desire, learning Photoshop or other photo editing software can really reduce the costs and get similar results. Over the years, we've used a mix of both, but have had the best success by hiring out this type of work and focusing on what we do best; floral design!
The process of editing these photos takes a few simple steps from the original high resolution photo as you can see above.
Take the photo. (High resolution with a white portable backdrop)

Crop the image. (Remove any unwanted background area)

Adjust the colour. (Typically brighten and adjust contrast)

Remove the background. (Get in there and turn everything not product to white)

Touch up any noticeable flaws. (The better the original, the less touch ups required)

Add features. (While not required, the shadow feature is an industry standard)

Add extras if required. (In some cases a new image will be taken)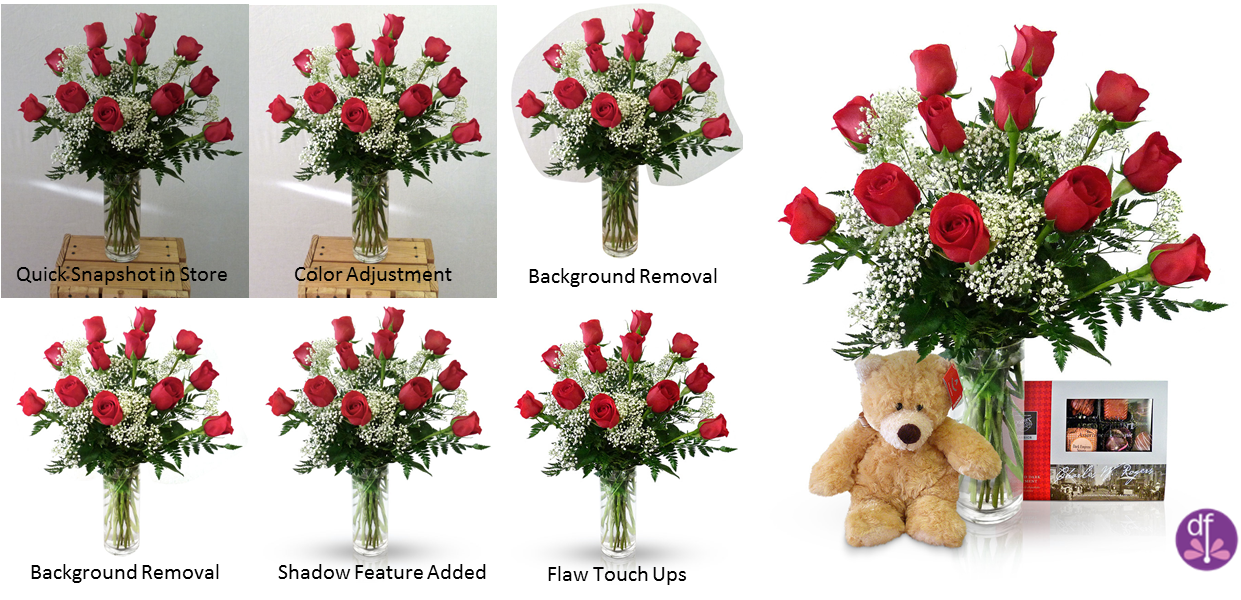 So, when you see a floral image or any other eCommerce image on-line you'll know that a great deal of time and care has gone in to creating and editing these images to make something both eye catching and engaging so that you can find just what you want for yourself or that perfect gift you've been looking to send.