Place your order by 1pm for same day delivery. From Birthday to Anniversary to Get Well flowers - all available for residential, hospital, and business delivery - trust Dragonfly Flowers to have just the right arrangement for you.
Once your order is placed, our thoughtful floral artisans put together your arrangement by hand. Every time. There will never be another arrangement exactly like yours.
We take pride and the time to create each fresh design just for you, because it's the customer we care about most.
(204) 633-5200
3-2230 McPhillips Street Winnipeg
Manitoba, Canada R2V 3C8
Spring Floral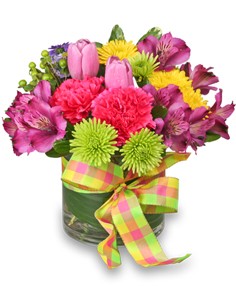 In Winnipeg, Manitoba, Spring is one of many people's favorite times of year. The anticipation of a warm
approaching summer, green grass, leaves and out-door activites make us all a little bit happier.
Spring is a time for vibrant colors and beautiful flowers. Browse our spring collection and we're sure you'll find something wonderfully colorful to send during this wonderful time of year!